Notify me when is back in stock
Leave your e-mail address and we will let you know when this product is back in stock
Add your review
Review Beco Hemp - Ring
Description
Beco has a fresh new look, Beco 2.0. Beco Pets becomes simply Beco. To minimise waste, we'll continue to use packaging with the previous branding until it's all gone. It is possible that you will receive products in their original wrapping as well as the new Beco 2.0 wrappings. The change will be gradually.
A chunky rope for you and your dog to play tug-o-war with, with an entertaining squeaker. It sheds safer, cleans your dog's teeth and is from low impact farming. Less to worry about, so you can focus on the fun stuff.
Cleaner teeth
The tough fibres of hemp rope act as a natural toothbrush, helping to scrub off the bad stuff that gathers on your dog's teeth throughout the day. The more they chew, the cleaner their teeth. The cleaner their teeth, the more they can chew.
Safer play
Hemp sheds in short fibres that are unlikely to cause harm if ingested and should pass through naturally. We still recommend supervising your dog when they are playing with any toy. Otherwise, you never know what mischief they get up to.
Sustainable hemp: fun facts
Hemp grows in abundance without a need for pesticides. It grows incredibly dense and tall, freeing up precious arable land for other crops. It needs very little water and returns 60 - 70% of its nutrients back to the soil.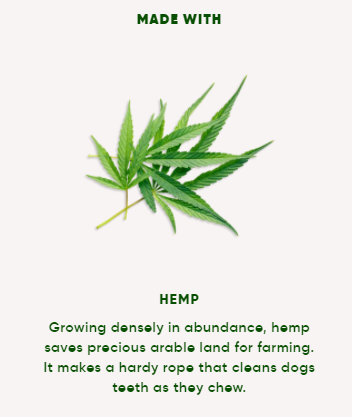 Beco
Sustainability is central to Beco. This beautiful British brand believes we should care for our planet as much as we care for our four-legged friends. That's why Beco develops products of the highest quality in the most sustainable way, without compromising on appearance, functionality and pleasure.
Read more
Specifications
| | |
| --- | --- |
| Article code | 5882 |
| EAN | 5060189755264 |
| Beschikbaarheid | Niet op voorraad |
| Brand | Beco |