Notify me when is back in stock
Leave your e-mail address and we will let you know when this product is back in stock
Add your review
Review Scruffs Kensington Mattress
Description
The Scruffs® Kensington Collection provides the ultimate support for your four-legged friend. Featuring a stylish brushed eco-suede outer fabric, with a deep-filled 100% polyester centre to ensure your pet remains as comfortable as can be. The matching outer stitching achieves a coherent finish and detailing across each bed.
Mattress
Available with a carry handle for ease of transportation, Scruffs® Kensington Mattress will seamlessly compliment any modern home décor and add vibrancy to any living space. After removing the outer cover, Scruffs® Kensington Mattress can be machine washed at 30 degrees.
Brushed eco-leather cover
Available in two sizes and four colours
Machine washable at 30 degrees
Measurements
Medium: 80 x 60 cm
Large: 100 x 70 cm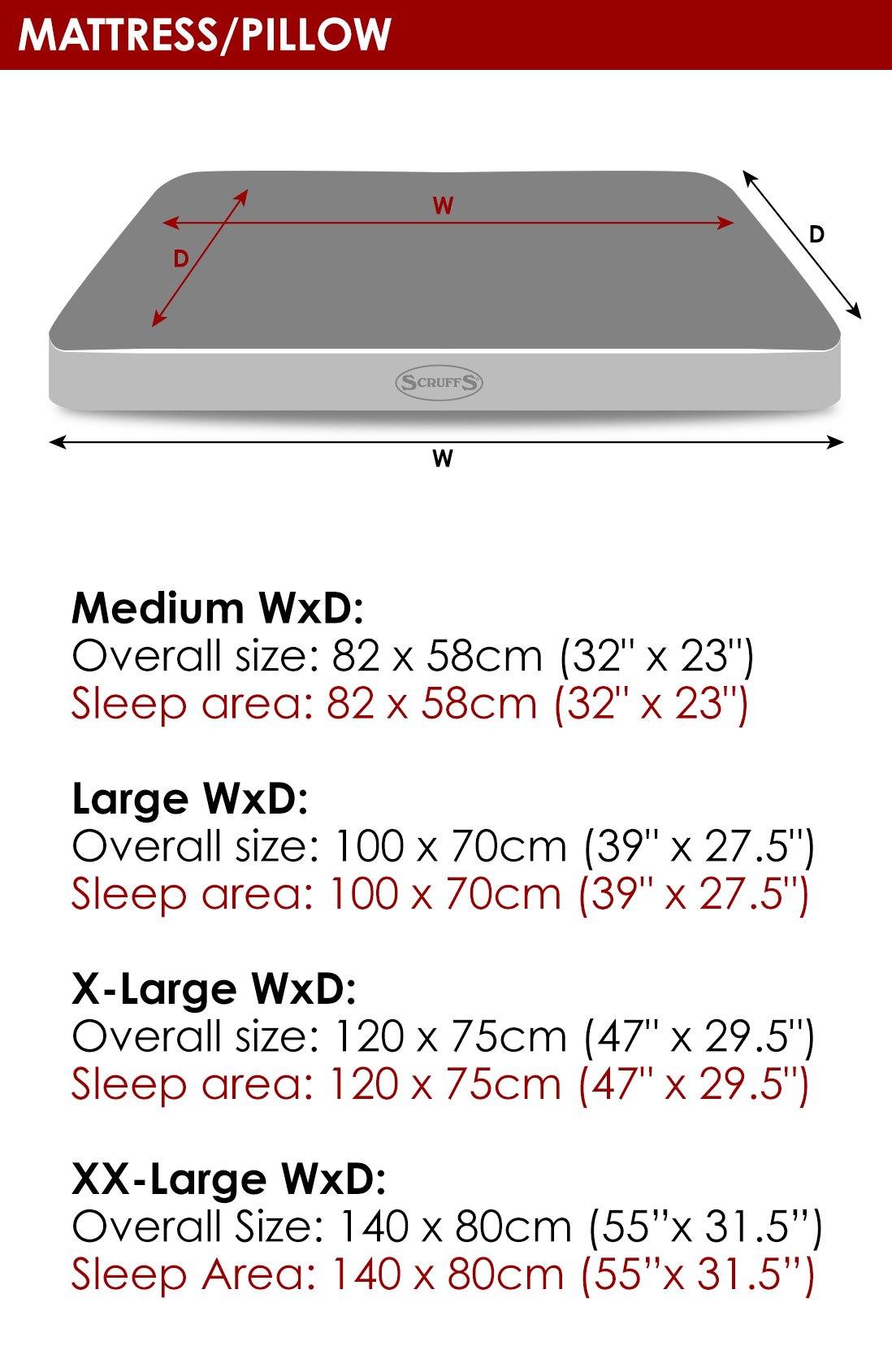 Scruffs®
Scruffs® is a global market-leading brand of premium pet bedding and accessories. The relationship between pets and their owners runs through the DNA of Scruffs® and every product carrying the Scruffs® logo has been carefully crafted to improve the life and wellbeing of the animals we love as part of our families. The philosophy of Scruffs® combines innovative solutions to practical issues facing owners and their pets along with beautiful fabrics and colour palettes found in the latest home décor trends to create the very best pet products in the market.
| | | | |
| --- | --- | --- | --- |
| Code | EAN code | Item | Master Carton |
| 6136 | 5060143661617 | Scruffs Kensington Mattress Cream M | 5 |
| 6137 | 5060143661662 | Scruffs Kensington Mattress Chocolate M | 5 |
| 6138 | 5060143661716 | Scruffs Kensington Mattress Grey M | 5 |
| 6139 | 5060143661761 | Scruffs Kensington Mattress Navy M | 5 |
| 6140 | 5060143661624 | Scruffs Kensington Mattress Cream L | 3 |
| 6141 | 5060143661679 | Scruffs Kensington Mattress Chocolate L | 3 |
| 6142 | 5060143661723 | Scruffs Kensington Mattress Grey L | 3 |
| 6143 | 5060143661778 | Scruffs Kensington Mattress Navy L | 3 |
Read more
Specifications
| | |
| --- | --- |
| Article code | 6136 |
| EAN | 5060143661617 |
| Beschikbaarheid | Op voorraad |
| Brand | Scruffs® |